The Federal Open Market Committee's (FOMC) decision to utilize the U.S. unemployment rate as a key determinant of future interest rate policy may make sense in terms of the Fed's dual mandates -- inflation and employment -- but suffers in terms of data credibility. While Federal Reserve Board Chairman Ben Bernanke made clear that policymakers will use additional measures, such as the labor force participation to interpret the unemployment rate data, the Fed's new dependency on the unemployment rate seems to be misplaced. Instead, the Fed should be looking to a better measure of the real jobs situation -- Gallup's P2P (payroll to population) measure.

Although the nation has experienced anemic economic growth over the past couple of years, the U.S. unemployment rate has declined significantly to 7.7% in November 2012 from 8.7% in November 2011 and 9.8% in November 2010.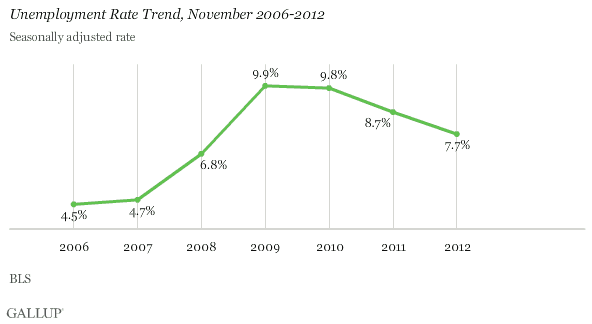 Much of the explanation for this seeming improvement in the unemployment rate has to do with the plummeting labor force participation rate that fell to 63.6% in November 2012 from 64.5% in November 2010. If the labor force participation rate had remained at its 2010 level in November 2012, the unemployment rate would have been at about 9.0%.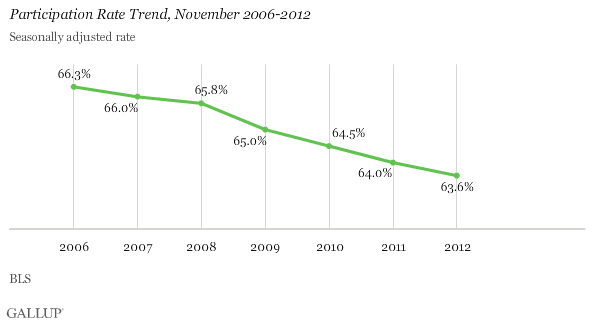 The reality is that the unemployment situation has not improved nearly as much as implied by the decline in the government's unemployment rate. For example, Gallup's P2P measure shows that the percentage of Americans working full-time for an employer was at 43.7% in November 2012. Although the P2P ran higher during the summer than in recent years, the real employment situation was worse in November 2012 than in November of 2011 or 2010, according to P2P.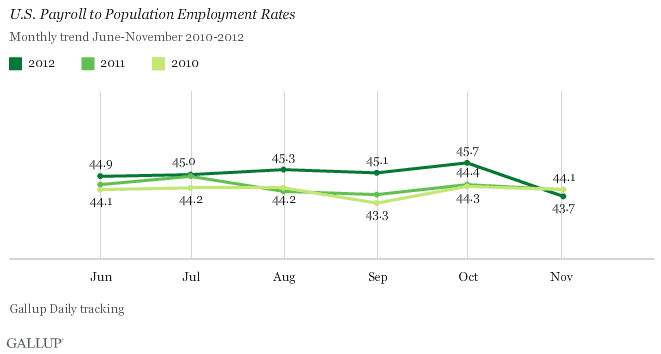 If the government's measurement of the labor force continues to show significant shrinkage, it seems likely that the unemployment rate could approach the Fed's target of 6.5% a lot faster than the expected date of 2015. Further, the actual on-the-ground improvement in the jobs situation may be much less than policymakers who are focused on the unemployment rate might anticipate. Therefore, it seems reasonable to hope that the Fed might take a careful look at other jobs measures, such as Gallup's P2P, and consider their use as part of the interest rate targeting effort.